Catharine Nevlin Hoover Descendants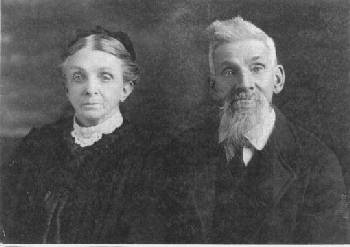 ---

2 Catharine Nevlin Hoover b. 06 May 1838 Clearfield Co., PA 
  d. 03 Dec 1924 Davenport, Scott, IA m. 05 Jan 1858 Isaac Newton Port   
  b.  09 Nov 1831Huntingdon Co., PA
  d. 09 Sep 1921 Davenport, Scott, IA

               3 John Calvin Port  b. abt. 1859 Scott CO., IA 
                 d. 04 Dec 1935 Davenport, Scott, IA
                   m. Mary A. _____  b. abt 1859 IA d. aft 1920

                           4 Hazel K. Port  b. abt 1898 Davenport, Scott, IA

               3 Emma Jane Port  b. abt. 1863 Scott Co., IA d. aft 1920
                  Emma is in the 1920 Census as an inmate in the Mercy
                  Hospital, Women's  Insane Ward, Davenport, IA.

               3 (Martha) Anne Port  b. 11 Feb 1865 Scott Co., IA 
                  d. 18 Mar 1930 Rock Island, IL
                   m. 20 October 1891 Charles L. Quinn d. 1922

                          4 Bessie L. Quinn  b. 1894 Scott CO., IA 
                             d. 1940 Scott Co., IA

                          4 Jessie "Jenny" Quinn  b. abt 1904 Muscatine, IA
                             d. 13 Jan 1957 Moline, Rock Island, IL

                          4 Manilla Quinn  m. Carl Meumann 

                          4 Emmett Quinn 

                          4 Robert Quinn 

                3 Frank Henry Port  b. abt. 1869 Scott Co., IA d. aft 1924
                   m(1). Edith _____ 
                   m(2) Florence Evelans 
                   Frank had a 3rd wife, UNKNOWN, according to another source

                3 (Sarah) Alice Port  b. 07 Feb 1871 Scott Co., IA 
                   d. 02 May 1932 Kansas City, Wyandotte, KS
                   m. 07 Jan 1892 Benjamin Franklin Dyer  b. 17 Jan 1871
                   Muscatine, IA. d. 24 Feb 1951Los Angeles, CA .There is some
                   question of Ben's middle name. It has been found both as
                   Franklin and Francis.

                          4 Alvina Dyer  b. abt. 1893 Muscatine, IA
                             d. abt. 1895 Muscatine, IA

                          4 Edwin Lyle Dyer, Sr.  b. 13 Apr 1895 Muscatine, IA
                             d. 23 May 1939 Sunland, Los Angeles, CA
                             m(1)12 Sep 1914 Anna Marie Healy  b. 07 Sep 1895
                             Muscatine, IA. d. 22 Mar 1922 Sunland, CA
                             m(2)Bessie Knier 
                             m(3)Bessie Kirsch 

                                  5 Anna "Annette" May Dyer  b. 10 Jul 1915 
                                     Kansas City, MO.  m. 10 Jun 1934 Charles 
                                     Arthur Blackfield 

                                  5 Edwin Lyle Dyer, Jr.  b. ?? Nov 1916 
                                     Kansas City, MO
                                     m. 15 Oct 1945 Katheryn June Hatfield 

                                  5 Dorothy Elizabeth Dyer  b. 30 Jun 1918
                                     Los Angeles, CA
                                     m. 31 Oct 1940 Robert Louis Stephens 
                                     m. ? Hiram Franklin Niccum d. 16 Jun 1978

                                  5 Clifford Francis Dyer  b. 04 Apr 1920
                                     Los Angeles, CA
                                     m. 02 Feb 1951 Muriel Carolyn Crosby 

                          4 Florence Manilla? Dyer  b. 01 Jul 1898
                             Muscatine, Musactine, IA 
                             d. 10 Dec 1988   Kansas City, Wyandotte, KS
                             m. William King 

                          4 Benjamin Port Dyer  b. 27 Nov 1900 Muscatine, IA
                             m. 1931 Alice Barrett 

                          4 Robert Wilford Dyer  b. 21 Oct 1905 Muscatine, IA
                             d. 27 Sep 1980 New Orleans, LA
                             m. 1931 Ruby Squires 

                          4 Jeannette Grace Dyer  b. 25 Oct 1909 Muscatine, IA
                             m. 02 Jun 1924 James Ervin Baer(?) 

                3 Elsie Louisa Port  b. 06 Jul 1880 Scott Co., IA
                   d. 28 Dec 1930 Davenport, Scott, IA
                   m. 02 October 1902 Layton R. Ackley  
                   b. 17 Aug 1868 PA  d. 23 Jul 1939 Iowa City, Johnson, IA

---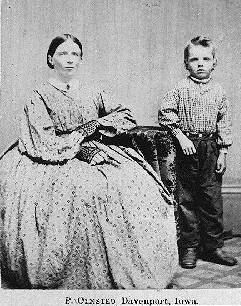 Here is a charming picture of Catharine Hoover Port with her oldest child John Calvin Port. It was taken in Davenport around 1866. Catharine would have been about 29 years of age and John would have been about 7 years of age. It is unfortunate that I do not have any pictures of Isaac Port in his younger days.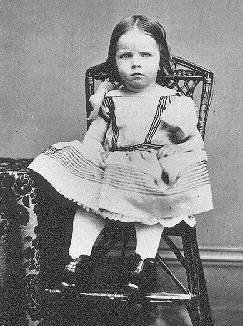 Another delightful picture shows Isaac & Catharine Port's daughter Annie. It was probably taken about the same time as the one above. Annie would have been about 2 years of age. Even in the last century it would seem children were not fond of sitting still while their pictures were taken!
NOTICE: Material may be freely used by non-commercial entities, as long as this message remains on all copied material. These electronic pages cannot be reproduced in any format for profit or other presentation without the expressed written permission of the author, Richard L. Hoover.
Copyright &copy 1997 - Richard L. Hoover
Back to Cathariner's Parents