The Hoover Genealogy Page
Covering Hoovers
in
Baltimore, MD, Clearfield & Cambria Cos., PA, Scott & Muscatine Cos., IA,
Madison Co., NE, Finney Co., KS, and many more places!
This Site Was Created By
Richard L. Hoover
Long Beach, California
This is a work always in PROGRESS
The Music on this page is a composition for Piano & Flute that I composed in honor of my father.
It was composed a few months after his death in June of 1992.

You can jump immediately to my personal page and learn something about me, or you can read on to trace my family tree...or that part of it that I have already discovered.
Jump to Richard's Page
See Photos From My Trip to Australia in the Summer of 1998!!

View pictures from Clearfield County, Pennsylvania, home of the Hoovers beginning about 1819
(Courtesy of my cousin Marilyn Wright Powers, descendant of Ann Hoover Wright)
Click Here to go to Clearfield County

Click on the Picture Below to Jump to the Château Des Baux in Provence, France
This may be the Origin of the Ancestors of my 3rd Great Grandmother Betsy Debo.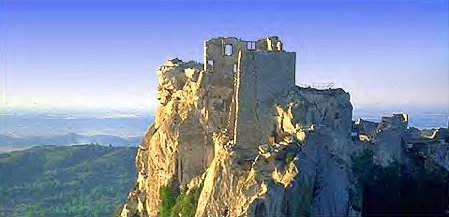 Here we see the Medieval Fortress located at the intersection of the Languedoc,
Comptat Venaissin and Provence regions, the Château Des Baux
HISTORICAL NOTES
A warrior line- The lords of Baux were renowned in the Middle Ages, described by Mistral as: warriors all -- vassals never; they were proud to trace their genealogy back to the Magi king, Balthazar, and, so that no one should ignore the fact, boldly placed the star of Bethlehem on their coat of arms!
--from Michelin Tourist Guide to PROVENCE
Learn more about the Des Baux of Provence by clicking HERE

Jump to my mother's side of the family by clicking below to learn about her PRAEUNER
Ancestors and Ancestral Home in Germany...Or continue far down to explore the HOOVERs

Click Here for the New Story of the EARLIEST PRAEUNERs
Click Here to Go to the Later (past 1685) PRAEUNER's Page

You can also now find out all about the Ancestry of My Great Grandmother Luella Lowry Hoover, from its beginnings in this country, in the state of Virginia!
Jump to the LOWRY Page

You can now jump to Nelle Olson Hoover's (my Dad's Mom) page. Learn something of my Norwegian heritage!
Jump to the OLSON's Page

My earliest known Hoover Ancestors are
John Hoover b. ? and his wife Maria "Betsy" Debo b. abt. 1776?
One of their children, George Washington Hoover, lists his father's birthplace in the 1880 Census as Germany and that of his mother as PA. Not much is known about John & Betsy before about 1820. All of their children appear to have been born in Baltimore, Maryland. The family then moves to Clearfield County, Pennsylvania. One history of the area ("Commemorative Biographical Record of Central Pennsylvania," vol.1, pp.832-833) in a biographical sketch on the DILLEN family (who intermarried with the HOOVERs) relates in a rather dramatic way that John HOOVER died while out hunting in the snow. He either became ill or sleepy, or both, and laid down to rest. When a search party was sent out to find him, his body was found, with his faithful dog sitting atop his master's chest. No date is given for this death. Maria "Betsy" Debo HOOVER is said, in the same sketch to have died while crossing Clearfield Creek in a boat, perhaps of a heart attack. Again, the sketch gives no date for her death. So far, the only records I have found in Clearfield County pertain to the children of John & Betsy. I sure would like some help out there from anyone on this!
The Children of John & Betsy Hoover are
* Indicates My Ancestor
(You may click on a name to see the individual families)
NOTICE: Material may be freely used by non-commercial entities, as long as this message remains on all copied material. These electronic pages cannot be reproduced in any format for profit or other presentation without the expressed written permission of the author, Richard L. Hoover.
Your Comments Are Welcome!

Just Click On My Name to Send Me Mail Richard L. Hoover

Visit My Parents Home Town! Battle Creek, Nebraska

Cyndi's List of Genealogy Sites on the Internet
PowerSearch the Web by Clicking Here! Starting Point

My Thanks to All Who Have Helped Make This Site Possible
Margaret Foster Wiltshire
Vernice Wright Klatt
Annette Dyer Blackford
Jay Wright
Lowell Harris
Joseph Mapes
John Howard Hoover
Melinda K. Green
Bob Cree
Cynthia Cast Britto
Marilyn Wright Powers
Carolin Wackler
... and many more!
This Page Last Updated December 31, 2008
** Please Stay Tuned for the Latest Additions! **
Copyright © 2008 - Richard L. Hoover